New World is an open-world massively multiplayer sandbox game developed by Amazon Game Studio and published by Amazon for PC on September 28, 2021.
Summary
New World pits players against the haunted wilderness of Aeternum, a mysterious island discovered during the twilight of the Age of Exploration.
New World allows you to carve your own destiny with other players in a living, hostile, cursed land. Overcome the brutal legions of The Corrupted and draw battle lines with competing players in this land of danger and opportunity.
Features
How you play, what you do, and whom you work with or against is up to you.
Live on your own amidst the supernatural terrors or join with others to build thriving civilizations.
In this evolving world that transforms with the changing of the seasons, weather, and time of day, the only limit is your own ambition.
Editions
Pre-order
Closed Beta access. Secure access to the Closed Beta scheduled for July 20, 2021.
Isabella's amulet. Equip Isabella's amulet to gain additional constitution to weather attacks and deal additional damage against certain types of supernatural enemies.
Unique title. Proudly display your "Expedition One" title as part of the initial wave of explorers to hit Aeternum's shores.
Emote. Greet your fellow adventurers with the Fist Bump emote.
Guild crest set. Three unique guild crests featuring axes, muskets, and armor.
Deluxe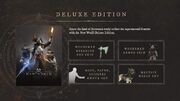 All Pre-order bonuses
Woodsman armor skin. Stand out from the crowd or blend in with the forest with the Woodsman armor skin.
Woodsman boarding axe skin. Complete the Woodsman look with this skin for the versatile boarding axe.
Mastiff house pet. Make your house a home with the Mastiff house pet. Access to housing unlocks at level 20 in-game.
Rock/Paper/Scissors emote set. Rock, Paper, Scissors, a light-hearted game with friends or a tool for making difficult decisions.
New World digital art book. A collection of incredible concept art from the making of New World.
Steelbook
All Pre-order bonuses
All Deluxe bonuses
Collector's map of Aeternum – the world of New World – designed by the New World Art Director.
Note: While the Steelbook Edition is now sold out, anyone can still purchase the Steelbook, which is sold separately, but without the game. This version also contains the map.
System requirements
Current system requirements as of July 23rd, 2021.
| Component | Minimum | Recommended |
| --- | --- | --- |
| OS | Windows® 10 64-bit | Windows® 10 64-bit |
| Processor | Intel® Core™ i5-2400 / AMD CPU with 4 physical cores @ 3Ghz | Intel® Core™ i7-2600K / AMD Ryzen 5 1400 |
| RAM | 8 GB RAM | 16 GB RAM |
| GPU | NVIDIA® GeForce® GTX 670 2GB / AMD Radeon R9 280 or better | NVIDIA® GeForce® GTX 970 / AMD Radeon R9 390X or better |
| DirectX | Version 12 | Version 12 |
| Network | Broadband Internet connection | Broadband Internet connection |
| HD Space | 50 GB available space | 50 GB available space |
Development
The game was originally to be released on August 25, 2020, but was pushed back to Spring 2021, and again to August 31, 2021. On August 4th, 2021, it was announced the release date would be pushed back to September 28th, 2021.[1]
New World was in Alpha testing until July 6th, 2021, and Beta began July 20th, ending August 2nd. There was an Open Beta from September 9th until September 12th, 2021. [2]
Achievements
Players of New World can earn 133 Achievements.
External Links
Gallery
Videos
References