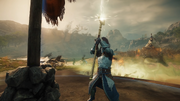 Life Staffs are a type of weapon in New World. Life Staffs damage scales with focus. Life Staffs have two skill trees, Healing and Protector. Life Staffs are a primarily support weapon.
Life Staff Characteristics
Damage Type
Strengths
Life magic, with its strong heals and protective abilities, gives players important sustainability during the more challenging boss fights and minimizes downtime between fights.
Weaknesses
Mastery