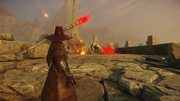 Fire Staffs, or alternatively, Fire Staves, are a type of weapon in New World. Fire Staff's damage scales with Intelligence. Fire Staffs have two skill trees, Fire Mage and Pyromancer.
Fire Staff Characteristics
Damage Type
Strengths
Fire Staff can provide strong DPS and help with some of the larger engagements with its large area of effect spells.
Weaknesses
Mastery
See also