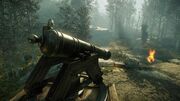 The Explosive Cannon is a Siege Weapon in New World.
Description
The Explosive Cannon, also known as Explosive Turret, fires an explosive shot that that disrupts and knocks enemies back. It's most effective against groups of infantry and provides area denial (like at the Rally Points in front of the fort). However, its low rate of fire makes it largely ineffective against fast-moving targets.[1]
Damage
Explosive Cannons do Impact (Physical) damage and knocks back affected enemies in the explosion area. It cannot do critical damage.
References