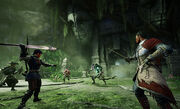 Expeditions are five-player instanced dungeons that will take players to the darkest corners of Aeternum. There, your party will face dire threats, learn more about the source of Corruption, expose the Angry Earth's ulterior motives, reveal the deeper menace behind the Lost, and delve into the secrets of the ancient Guardians. Players can expect challenging battles which require skill and team coordination to complete. Expeditions require a group of three to five players for completion. At least one player must have the required Tuning Orb to enter.
Each expedition will tell its own story and be a unique experience. Expedition have loot and gear unique to that experience to incentivize exploring and conquering the various expeditions spread throughout Aeternum. In successive expeditions, the mechanics and puzzles are going to vary. For example, AI sets for bosses and mini-bosses will differ, and loot tables will be unique for each expedition.
Expeditions can also be enhanced/altered with Mutators.
List of expeditions
Tuning Orbs can be crafted at the Stonecutting Table or obtained from certain stories.
Expedition stories
Videos